•
467 words • Miniviews
I'm a Maker Because...with Halley Immelt
Halley Immelt, Potter - Maker Miniviews series. These interviews are quick and to-the-point, check it out.
By Scott Mathson, Makerviews
Makerviews exists to share the stories of and advice from a variety of talented makers, designers, and artists.
Follow Makerviews
Supporters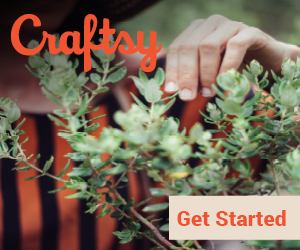 Miniviews series - No. 65 with Halley Immelt
You've landed on the sixty-fifth installment of the Maker Miniviews (mini, two question interviews) series. Learn more about these maker interviews and view a list of all Miniviews.
Halley Immelt is a mother, full-time designer, and pottery maker. Halley expresses herself by creating unique ceramic pieces - home decor, mugs, wall art, vases, and more - and sells online, at Ohio craft and maker fairs, and commissions select custom work. This maker is channeling her entrepreneurial, creative, and artistic spirit via Ice + Dust Pottery.
Check out this interview with Halley Immelt!
I'm a Maker Because...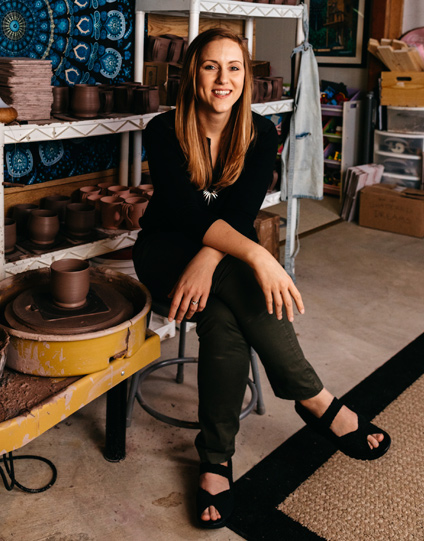 Halley Immelt interview
What inspires you to keep making things?
"I genuinely love the process. I could make hundreds of the same form over and over before getting tired of it because I genuinely enjoy the repetition, and I love that at the end of the process, I have the opportunity to share what I've made with other people and see the joy it brings them."

What one piece of advice would you give to other makers?
"Try to get yourself in a place where you don't have to create work that you don't enjoy making. There's a lot of pressure on makers these days to do custom work, and there seems to be an expectation that artists should be grateful for every paid commission. But if that's not your thing, don't do it, and find a way to be comfortable with that.

I am one of many makers who also has a full-time job and a family, so a lot of my life is spent in service of others. I am 100% okay being a little selfish with who I create art for these days, and I'm fortunate that I am in a position where I don't have to worry about turning down commissions. Pottery is my self care, and if I sacrificed the creative freedom I have with pottery, I wouldn't have anything left for myself."

"Try to get yourself in a place where you don't have to create work that you don't enjoy making..." — Halley Immelt
Follow Halley Immelt's work: Ice + Dust Pottery website • Facebook • Instagram profile.
Photo credit: Megan Leigh Barnard, Photographer and Co-founder of @creativebabes
---
Join in on the conversation
The Makerviews email Newsletter is where we share things first. Connect with and learn from other makers. We don't spam - expect emails weekly at most.
Signup for newsletter
"Pottery is my self care, and if I sacrificed the creative freedom I have with pottery, I wouldn't have anything left for m..." - Halley Immelt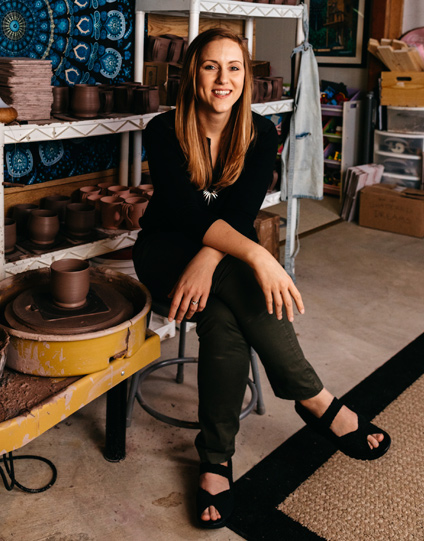 ---